Teamwork, Integrity, Innovation and Excellence are integral to our values and guide the selection of our clients, the relationships with our business partners, the recruitment of our team members, and the delivery of our services.
Quality
Control
ADC is dedicated to creating solutions that are of the highest quality and accordance to all requirements, guidelines, codes, restrictions and standards. We do this through consistent and measured quality control and quality assurance procedures.
Our stellar history of constructability and client cost control stems from our own Quality Assurance Plan. This plan was developed to ensure that all drawings and design packages submitted throughout the project are free from errors and omissions. This results in packages that can be fabricated and installed in the manner drawn in a coordinated effort across all disciplines.
Our Quality Control and Quality Assurance Manager provides value engineering, review of retrofit concepts and cost modeling, as well as design integration of structures and systems throughout the project timeline. The Project Manager oversees project activity and guarantees that construction costs are budgeted, tracked and controlled. This system is critical during the entire design process. Our QA/QC and Project Management processes together can successfully eliminate any unnecessary costs during construction. ADC's dedication to creative problem solving, attention to detail, and collaboration between the client and design team, has resulted in ADC having a less than 1% rate of change orders on projects.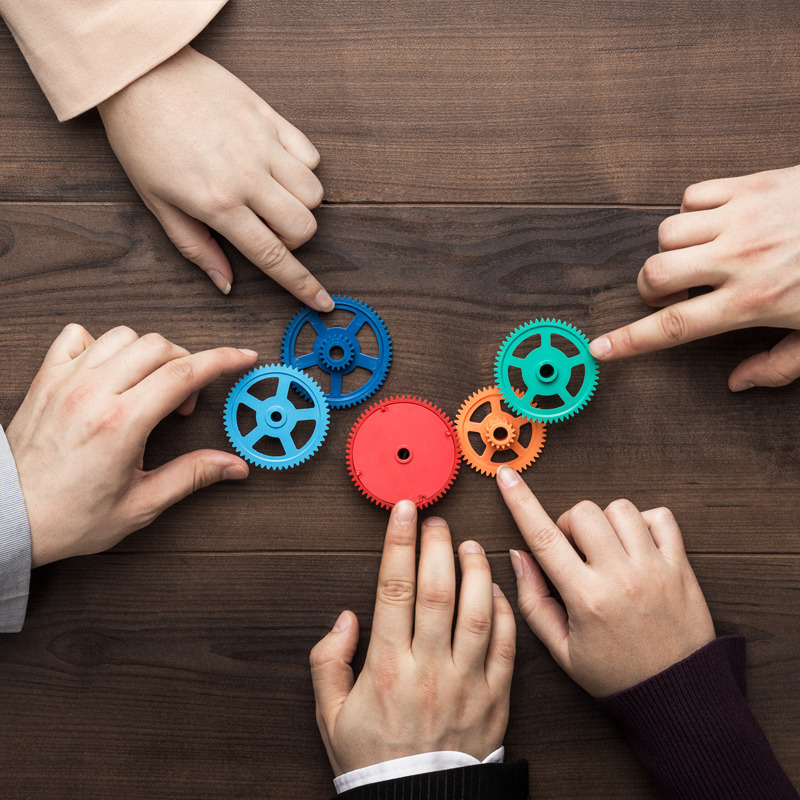 Partnering
Creating strategic partnerships is another way that Advance Design Consultants creates value for our clients through enhanced collaboration. At ADC we have created alliances and knowledge sharing channels with industry and supply chain partners. This expands our outreach and competitive advantage in the marketplace and provides the highest possible level of insight, expertise and quality assurance for our clients. Our partners are organizations that share our purpose and passion. Our teams drive innovation and sustainability through every aspect of a project to exceed client expectations and industry standards.
ADC has a diverse network of supply chain partners who provide fast access to knowledge and resources which can exponentially impact our value to the client. Our strategic relationships with Air Treatment, Automated Controls, Cal Hydronics, Capstone, CMS, Emcor, Eaton, Engineered Air, Fluid Industrial, Johnson Controls, Norman Wright, Trane, among many other well knows suppliers in the industry, ensure that the quality designs we produce will be supported by the best equipment, systems, and infrastructure imaginable and provide a functional and efficient product for our clients.
In addition, ADC partners with sub consultants such as other architects, structural and civil engineers, code/permitting consultants, environmental specialists, and specific technical experts who further expand our outreach and provide resources and insight to ADC's already multi-disciplined and experienced team. By partnering with experts across many different industries and disciplines, ADC has access to resources, insight and perspective that gives our team every opportunity to address your project challenges to the fullest and highest standards.
Corporate
Responsibility
At Advance Design Consultants, Inc., we seek to create a brighter future for our team members, our communities and the world we live in by evolving, learning and improving every day. This approach is at the core of our corporate responsibility efforts and embedded throughout our organization. It keeps us focused on superior results and actively engaged in creating strong, healthy and safe facilities that shape our community.
Environmentally responsible design and construction is another fundamental element of ADC's business. It shapes the way our communities work, live and play. As architects, engineers, designers, planners, consultants and technical specialists, we have the power to influence the built environment and create buildings that improve the world around us. We design buildings that operate more efficiently and more effectively, with less waste and greater cost-savings. ADC prides itself on our commitment to sustainable practices. Through our collaborative and integrated network, we continue to create new and innovative ways to design and build the most sustainable facilities imaginable.
Our legacy of corporate citizenship and sustainable advocacy has only increased through the years. As we plan for the future, ADC is confident that our impact will be prevalent for future generations.
Out-of-the-Box
Solutions
Not all projects have the same requirements. And not all requirements have an off-the-shelf solution. At Advance Design Consultants, Inc., we take the time to evaluate your unique situation and specific needs. Our Project Manager will work with all of the stakeholders on your project to identify the key elements of your project and your needs for customization. We have assembled a diverse team of expert engineers, designers, planners, specialists and consultants who will find innovative, custom solutions that are crafted to your particular set of goals and challenges. Advance Design Consultants, Inc. does more than design spaces; we join our client's team and create solutions that address their needs and meet their aspirations. We embrace innovation and customization with a concerted effort to simplify, not complicate, the process for our clients. No matter what the challenge is, we will work to create quality and sustainable solutions.